More info about Thaicom 78.5° East
​​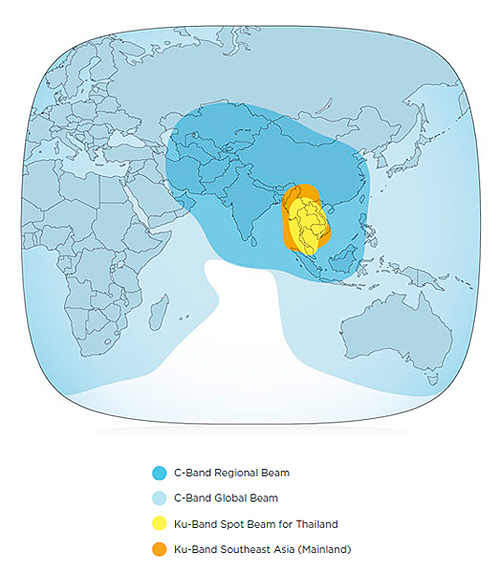 THAICOM-5 is a three-axis stabilized spacecraft with a payload capacity of 25 C-Band and 14 Ku-Band transponders. Global beam coverage on THAICOM-5 spans over four continents and can service users in Asia, Europe, Australia, and Africa. The high-powered Ku-Band transponders, with both spot and steerable beams, are ideally suited to Digital DTH services for Thailand and other countries in the region.
THAICOM-6 will be co-located with THAICOM-5 at 78.5 degrees East ("Hot Bird" position), and carry a hybrid Ku- and C-band payload. The Ku-band payload will be comprised of 8 active transponders providing services to the Southeast Asia (mainland). The C-band payload will feature 18 active C-band transponders providing services via the satellite's regional beam to Southeast Asia and Africa, including Madagascar.