More info about Galaxy 97° West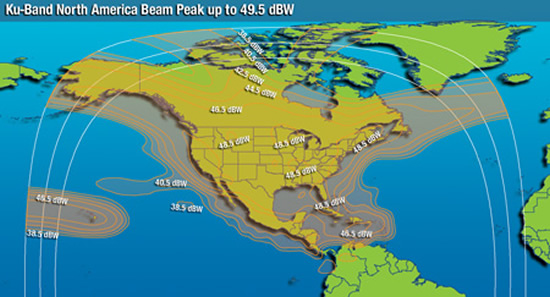 The distribution of channels from the production studio to multiple regions around the world has increased dramatically during the past several decades, driven by programmers seeking new audiences from a population that routinely relocates to take advantage of economic and career opportunities.
The U.S. is a key destination for these expatriates who also want to keep abreast of the latest news, entertainment and sports from their home countries via direct-to-home (DTH) delivery of their favorite television channels.
In collaboration with its partners, Intelsat operates the premier U.S. Ethnic DTH community. Our Galaxy 19 satellite, located at 97°W, provides complete coverage of the continental United States as well as the Caribbean, Alaska & Hawaii. From this prime location, Galaxy 19 delivers:
More than 250 channels of programming in more than 40 languages

Content originating from 66 countries around the globe.
Channels are backhauled from around the globe via fiber and satellite to six entry points in the United States — either Intelsat teleports or partner facilities. From the teleports, the signals are uplinked to the Galaxy 19 satellite and then broadcast directly to viewers, who access the signals via individual antennas measuring 75 centimeters across.
TV channels carried by Galaxy 19 cater to about 70% of the US population whose native language is not English or Spanish. About 85% of that content is free-to-air, making it extremely attractive to audiences. When households point their antennas to Galaxy 19, they can receive all of the free-to-air content, and also subscribe to the pay-content if they wish.