More info about Nilesat 7° West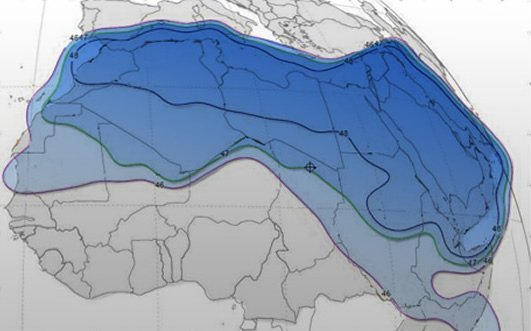 The Egyptian Satellite Company, Nilesat, is a joint-stock company operating under the Free Zone Law in 6th of October City, and the name of a series of Egyptian communications satellites. It was established in 1996 to operate Egyptian satellites, associated ground control stations and uplinking facilities. It has launched 2 satellites to the 7° West orbital neighborhood (Nilesat 101 and Nilesat 102), and launched its second generation satellite, NILESAT 201 in August 2010.
In December 2010, Nilesat broadcasts over 600 TV channels, and over 100 digital radio channels uplinked either from Cairo, Dubai, Amman, Doha, Riyadh and Beirut and covering North Africa, the Middle East and the Gulf Region. Nearly 76% of the TV channels are free to air, the remaining channels are encrypted.
Nilesat viewership in the MENA region has shown steady growth, from 11 million households in 2003 to more than 40 million households in 2009. Nilesat is enjoying the highest viewership in the MENA region according to the most recent surveys in 2010, about 95 % of the house hold in the MENA region.